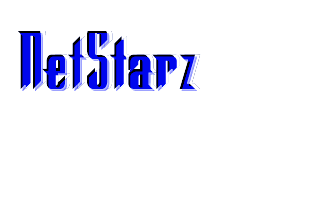 Plans from only $125.00 per month for hosting and maintenance.
---
NetStarz offers the same premium features other services do, plus unique components you won't find anywhere else, all at a fraction of the price you'd expect to pay elsewhere. From our T3 connection to the Internet backbone, to our multi-processor servers, to secure server access, we give you more for less.

NetStarz Account Information - A true value consists of more than mere cost savings, it involves getting the most out of your investment. At NetStarz we strive to offer our customer more standard features and a higher quality of service than our competitors, all at a fraction of the price.

NetStarz Account Features - Here are just some of the standard features that come with your NetStarz account
Custom Design of your Site (Design fees are determined by your needs)
Monthly updates and maintenance of your site per agreement
25 Megabytes of disk space

Domain registration provided°

1000 Megabytes of data transfer per month
(additional transfer $.05 per Meg)

Additional disk space @ $0.75 per 1 Meg

T3 Connection to the Internet

12 email forwards
(additional forwarding setups are 5 for $10.00 per. month)

6 POP3 email accounts
(additional POP accounts are 5 for $10.00 per. month)

10 Auto e-mail responders

Anonymous virtual FTP site

Custom CGI script via your own CGI-bin

Choice of Unix or Microsoft FrontPage°°°

Detailed web statistics

TrueSpeech server support

Access to SSL secure server

Daily tape backup

Same day setup

No minimum contract°°

30 day money back guarantee°°°°

° Internic fees billed separately
°°&nbspInvoicing done quarterly.
°°° A setup fee of $50 will be charged on account type transfers
°°°° Excludes setup fees



To discuss your needs for your business mail info1@netstarz.net today!